Hollywood Friday Release: The Dark Knight Rises Movie Review, Ultimate End
New Delhi, Fri, 20 Jul 2012
NI Wire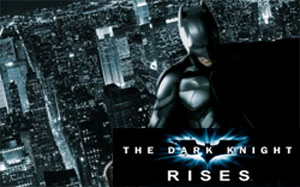 Directed by: Christopher Nolan
Produced by: Christopher Nolan, Charles Roven, Emma Thomas
Screenplay by: Christopher Nolan, Jonathan Nolan
Story by: David S. Goyer, Christopher Nolan
Cast of The Dark Knight Rises: Christian Bale as Bruce Wayne / Batman, Tom Hardy as Bane, Anne Hathaway as Selina Kyle, Michael Caine as Alfred Pennyworth, Gary Oldman as James Gordon, Morgan Freeman as Lucius Fox, Joseph Gordon-Levitt as John Blake and Marion Cotillard as Miranda Tate
"The Dark Knight Rises is the ultimate end to the Trilogy, though the film has no sci-fi effects but the cast, cinematography, editing and all other technical aspects of the film are brilliant. Bob Kane creator of Batman would be immensely proud of this film. Nolan has brought the perfect end to trilogy or..."
Review of The Dark Knight Rises
Eight years after Batman left after the death of Harvey Dent, a new terrorist named Bane appears and takes over Gotham city. Despite being considered as an enemy, Batman reappears and aids Gotham police to fight him.
Batman is long gone though Bruce Wayne lives in his mansion. Bruce in this film is not all mighty and people will get to see that he is broken, broody, riddled sometime because of the lost love and sometime because of his part in Harvey's death. Trying to recover from that he isn't sure if putting on the cape of Batman again is a good idea.
Commissioner James Gordon's has removed crime from the Gotham city but still feels guilt about Harvey's death. He addresses people but he does not tell actual facts. Bane somehow gets his hand on the speech and threatens to nuke Gotham.
Batman returns when Bane stages a raid on city's stock exchange.
Christian like previous two films has portrayed the character superbly. Tom Hardy who plays the role of Bane doesn't have the physique to look huge but camerawork makes him look menacing enough.
Alfred in this film acts more like a father who can't see Bruce destroy himself. He also acts as the emotional anchor of the film.
Gary Oldman as Police Commissioner Gordon is brilliant.
Anne Hathaway, the Cat Woman or Selina Kyle has done justice with her character. She doesn't play a plastic cat burglar but a thief with a conscience.
However the surprise package is Joseph Gordon-Levitt who plays the role John Blake. His part will not be discussed to keep you away from the surprise.
The Dark Knight Rises Trailer 1
The Dark Knight Rises Trailer 2
LATEST IMAGES

MORE...
Social bookmark this page
Post comments: