Guwahati Girl Molestation Case: CID now probe the case, arrest now reaches to 11
Guwahati, Tue, 17 Jul 2012
NI Wire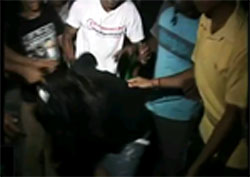 The Assam Government, which is facing criticism over Guwahati molestation case in which a group of 50 men molested a teenage girl outside a bar in the state capital on July 09 night, has decided to hand over the case to Crime Investigation Department (CID) of Assam.
The Chief Minister of Assam Tarun Gogoi, who commented on this case on Monday as he and his government is being criticized for revealing name and face of the victim in government's official release has said, 'This case has tarnished his own image because of over hyping the case by Central media. This type of cases daily happens in big cities including national capital Delhi. But, due to over hyping the case, the whole Assamese community is being infamous'.
He also added that he realized that there were government's fault and government will try to rehabilitate the victim. He ordered for CID probe for this case.
On the other hand, National Women Commission (NCW) has criticized Assam government's move to publish victim's name and image. The commission has also eliminated its one member Alka Lamba, who had too named her before the media, from the committee.
Alka Lamba, who had reached to Guwahati for probing the case, has reportedly informed that she is now not the part of NCW but she is still a part of enquiring committee and she would submit her report after completing her enquiry.
The police has so far 11 out of 12 identified accused but the key accused Amar Jyoti Kalita, who can be spotted in a red jersey in the viral video of the incident, is still absconding.
Tarun Gogoi, has also criticized the local media person Gaurav Jyoti Neog who made the video of the incident and spread into major television channels and internet. He suggested him to follow the media ethics.
He accused Neog for provoking the mob and for going beyond the media ethics.
Neog on the other hand has denied all allegations leveled against him. He however on Sunday resigned from the television channel citing to come under fair probe.
--With Agencies Inputs--
LATEST IMAGES

MORE...
Social bookmark this page
Post comments: