People have frustrated from the Congress government in Delhi: BJP
New Delhi, Tue, 10 Jul 2012
NI Wire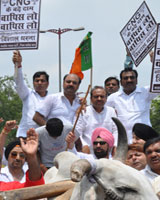 Delhi State BJP President Vijender Gupta has said that Congress ruled Government has given only price spiral to people of Delhi. This Government does not belong to the Common man. That is why the people are very much frustrated due to the anti people policies of Delhi Government and waiting to dislodge as soon as possible.
It is noted that BJP workers were strongly protested at 14 prominent CNG Stations of Delhi against CNG price hike and demanded immediate rollback of CNG prices today. About 20000 CNG vehicle owner participated in the Signature Campaign launched by Delhi BJP and marked their signature demanding to rollback CNG prices.
Addressing the workers at Karol Bagh and Hayat Hotel Gupta has said that last time when the CNG prices were increased by the Government, the BJP workers came out and protested on the road and government was forced to rollback prices by Rs. 1.77 and this time the hike is on the higher side by Rs. 2.90.
The whole Delhi is suffering due to the wrong policies of Delhi Government of increasing CNG prices in very short intervals but CM Sheila Dikshit is not at all concerned with the sufferings of the people of Delhi.
He further said the Congress is ruling Delhi since 1998 and 14 years have passed under their rule. In these years people of Delhi have faced and demoralised due to price piral, scandals, corruption, and the Congress in Delhi was dedicated to anti people policies.
He further said the Government should have reduce the prices of CNG so that the people can avail them cheapest fuel and our atmosphere and pollution level of Delhi could be saved. By increasing the prices of CNG Chief Minister of Delhi it shows that she wants to categories the rank of Delhi in the list of polluted cities of the world.
LATEST IMAGES

MORE...
Social bookmark this page
Post comments: