Pawar welcome Ramdev moves, Congress says nothing wrong
New Delhi, Wed, 06 Jun 2012
NI Wire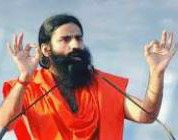 In a surprising move, Yoga Guru Baba Ramdev meets NCP leader Sharad Pawar for his support to erase corruption and black money issues. When Ramdev has said after the meeting that pawar has assured him to support his move meanwhile Congress has said that it is nothing disturbing for her.
After the meeting, Baba Ramdev said that there is a need to build consensus across the country on issues such as black money, graft and changing the system. To this end, we are meeting people at all levels, from village councils to the Parliament. Just as we are meeting the top leaders of all political parties, we met Sharad Pawar today.
Ramdev claimed that Pawar has taken a historic initiative and promise to support him by his move.
On the other hand Pawar said that if black money was retrieved and infused into the system, it would benefit all sections of society. The government raises funds through taxes, but these funds are not sufficient for the development work that is required. If illicit funds are retrieved and included in the country's development process, it will be used to benefit everyone, whether it is schoolchildren, farmers, labourers, lower castes, tribals, and bring change to their lives, he added.
Interestingly it is amazing that Team Anna had earlier announced 15 corrupted ministers name and Pawar is one of those. Last days Ramdev and Anna has jointly hold a day long fast for the same issues and now Ramdev is ready to meets every politicians for their support to his movement. (With inputs from ANI)

LATEST IMAGES

MORE...
Social bookmark this page
Post comments: