Ramdev dominates the fast venue, everywhere
New Delhi, Sun, 03 Jun 2012
NI Wire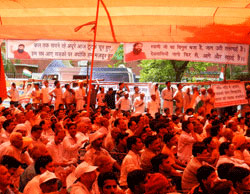 Of course Anna Hazare and his team shared the dais with Yoga Guru Ramdev for the first time, but it was completely a show for Baba Ramdev who was present everywhere amid the mob. This time there was a lack of Anna cap in the public and placard fully with Ramdev was present everywhere.
In fact the show was completed dedicated to Baba Ramdev and his supporter and he dominated the whole show. There were few wavering tri-colours and 'I am Anna' caps. The tri-colour paint adorning faces were also rare.
It is noted that the youngsters and teenaged boys were the main attractions during the Anna fast but this time all were disappear from the venue.
Everywhere Ramdev posters and his supporters were displaying the clear message that the show was only for Baba Ramdev.
"My entire family has been attending Ramdev ji's yoga camps. He is fighting for a good cause, so we came to support him," Rajendra Singh Bhati, a farmer from Haryana said on the venue.
"We are a clan of 12 families who have come to support this fast from Khera village," he added.
Bhati was not alone, hundreds of others came from rural heartlands pulled by a mix of yoga guru's fame and Anna's anti-corruption image. But what was missing was the Anna zing that had graced his previous fasts in the national capital and the middle class that supported the anti-corruption crusader.
The fast has been called to mark one year of Ramdev's last agitation at Ramlila ground, from where he was arrested in the middle of the night between June 3 and 4.
(With inputs from IANS)
LATEST IMAGES

MORE...
Social bookmark this page
Post comments: