Maximum Movie Review
New Delhi, Fri, 29 Jun 2012
NI Wire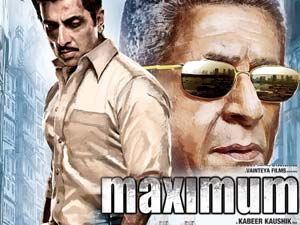 Star-Cast: Sonu Sood, Naseeruddin Shah, Neha Dhupia, Vinay Pathak, Arya Babbar, Swanand Kirkire, Anjana Sukhani, Amit Sadh, Mohan Agashe, Rajendra Gupta
Director: Kabeer Kaushik
Music Director: Amjad Nadeem
Kabeer Kaushik directorial 'Maximum' starring Sonu Sood, Naseeruddin Shah, Neha Dhupia has hit the Indian cinema with its release nationwide today. With this you will gain watch the favorite plot of Bollywood based on fake encounters, crime, bhaigiri, politics, land deals and so on.
The story of Maximum takes you back to the year 2003 in Mumbai where the local police had satrted a war against the dominating underworld. The command has been given in the hands of two potential and brave police officers Pratap Pandit (Sonu Sood) and Arun Inaamdar (Naseeruddin Shah) to eradicate crime from the city. The story revolves around these two police officers, their way of handling the task and their struggle for 'maximum' power. Both the officers show contradictory characters with Pandit (Sonu Sood) being ambitious and Inaamdar (Naseeruddind) conniving and silent. Both the officers engage in their self-defeating turf war which leads to a dramatic conflict between the both. The climax of the movie is a bit unpredictable. Pandit's wife (Neha Dhupa) is killed by his rivals in the climax.
The film does not prove worth due to lack of a proper plot and storyline that fails to keep the interest of the audiences going. Talking about the performances, Naseeruddin Shah as an encounter specialist is as usual the element of the movie justifying his character to the best while Sonu Sood has also made his appearance noted with less but intense dialogue delivery and too many bullets speaking for him. Neha Dhupia, who is playing Pandit's wife in the movie, looks pretty in the traditional outfits as a housewife. Vinay Pathak plays Tiwari, an Uttar-Bharatiya neta, looks has justified his role as a politician. Amit Sadh as a reporter is quite impressive in his role.
The music of Maximum has been given by Amjad-Nadeem and the lyrics by Shabbir Ahmed. 'Aa ante Amalapuram', an item number in the movie is quite popular these days.
Overall Maximum is an ordinary movie which lacks a mass appeal due to its weak script.
LATEST IMAGES

MORE...
Social bookmark this page
Post comments: