Friday Release: Daal Mein Kuch Kaal Hai Movie Review
New Delhi, Fri, 29 Jun 2012
NI Wire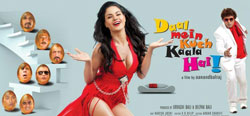 Directed by: Aanand Balraj
Written by: Aanand Balraj
Produced by: Urvashi Bali, Deepak Bali
Cast of Daal Mein Kuch Kaal Hai: Jackie Shroff, Vijay Raaz, Veena Malik, Shakti Kapoor, Bobby Darling, Aman Verma, Raja chaudhary, Sudesh Berry
"Daal Mein Kuch Kaal Hai is NOT a 'Short-budget film' you would like to look forward to. The film is filled with veterans like Shakti Kapoor, Jackie Shroff but all they add is overacting. Both Veena Malik and Anand Balraj (lead characters) are unimpressive."
Review:
Mr. Dabu played by Anand Balraj (if you remember he used to play side villain in many 80's and 90's film) is a 40+ man who becomes rich when he inherits money. He is madly in love with a budding actress played by Veena Malik. And now that he has money he wants to make a film with her.
Veena on the other hand just wants to grab his wealth, which he has in cash (????? Why in cash???). She with her boyfriend plans to con Mr. Dabu.
Here comes the bizarre twist. Veena convinces Dabu to travel with her to a lone island where she and her boyfriend will rob him. People around them get to know about the money. While on the way they are stopped by a big storm and are forced to spend night in a palace. This palace is haunted by a soul (second role of Veena Malik). Rest of the people follows them to the palace. And then the struggle begins for both money and girl.
Director has unsuccessfully tried to create humor in this haywire.
So if you still want to know about the climax that who gets the money? Who gets the Girl? And the role of Soul? Help yourself to nearby theatre to watch Daal Mein Kuch Kaal Hai.
LATEST IMAGES

MORE...
Social bookmark this page
Post comments: