Singur Land row: Mamata double monthly stipend to farmers, labourers
Kolkata, Thu, 28 Jun 2012
NI Wire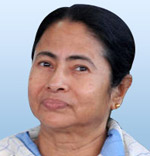 Despite getting a major setback from Calcutta High Court's order pertaining to ?Singur Land Rehabilitation and Development Act, 2011' West Bengal Chief Minister and Trinamool Congress Party President Mamata Banerjee is firm to carry out her struggle and has pledged to support unwilling farmers and labourers who did not want to hand over their lands for Singur project.
For this, she had earlier announced to provide Rs.1,000 per month as a monthly financial support to the families of unwilling farmers and labourers in return of their financial loss due to loosing their lands. But viewing the inflation and skyrocketing prices of food grains and essential commodities, she has decided to double the monthly stipend.
Moreover, she has also announced that the scheme of providing rice to pertaining families will continue despite hiking price rate.
In a released order, Mamata said, "We had earlier announced a monthly allowance of Rs.1,000. But prices have gone up. They can't make ends meet. So, we have decided to increase the amount to Rs.2000 per month till we officially return the land to them."
The unwilling farmers are those from whom 400 acres of land was acquired, allegedly with force, by the erstwhile Left Front government to enable automobile major Tata Motors to set up its Nano small car factory.
Tata Motors' plans to roll out the Nano from Singur in Hooghly district, around 40 km from here, came unstuck following an intense agitation of peasants led by the Trinamool Congress, which demanded the return of the 400 acres acquired from farmers between 2006 and 2007.
Riding on the peasant agitations in Singur and Nandigram in West Midnapore district, the Trinamool increased its popularity and the party ended the 34-year rule of the Left Front in 2011.
Within a month of coming to power, the new government passed the Singur Land Rehabilitation and Development Act, 2011, to return the acquired land to the unwilling farmers. But it received a jolt last week after a division bench of the Calcutta High Court declared the law "unconstitutional and void".
--With IANS Inputs--
LATEST IMAGES

MORE...
Social bookmark this page
Post comments: