Kolkata based solar physicist wins prestigious US prize
New Delhi, Sat, 23 Jun 2012
NI Wire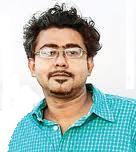 Dibyendu Nandi of the Indian Institute of Science Education and Research, Kolkata became the first scientist from the Asia Pacific to be awarded with the prestigious Karen Harvey Prize for 2012 the American Astronomical Society (AAS).
Nandi, a Kolkata based solar physicist was awarded for his "advances in the use of kinematic dynamo models to elucidate the typical and atypical solar cycle, and for his outstanding leadership within the solar physics and space climate communities."
According to an official announcement, the prize is in "recognition for a significant contribution to the study of the sun, early in a person's professional career."
"The main thrust of my discovery is that the sun's memory regarding its past activity is very short. This implies that very long term forecasting of solar activity and space weather is ruled out," he told Asian Scientist Magazine.
Nandi said that he did his research at the IISER in collaboration with Bidya Binay Karak, a student from the Indian Institute of Science, Bangalore
Earlier, Nandi has published a number of papers on solar activity, including one that explained the disappearance of sunspots for the first time.
He was the leading author for this paper that was published in the journal Nature.
Nandi is also a part of ISRO's Aditya's mission to the sun, which has been scheduled to start off later this year or in 2013.

Nandi, completed his PhD from Indian Institute of Science, Bangalore in the field of solar physics and thereafter, spent seven years in the US working at the Montana State University on various NASA projects.
Established in May 2002, the Karen Harvey Prize was established in May 2012 in the honour of a solar physicist who was president of the Solar Physics Research Corporation and treasurer of the solar physics division.
-With inputs from IANS
LATEST IMAGES

MORE...
Social bookmark this page
Post comments: