Gangs of Wasseypur: Movie Review
New Delhi, Fri, 22 Jun 2012
NI Wire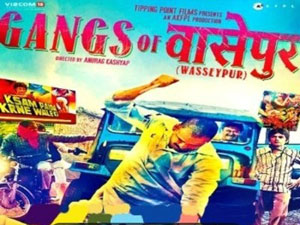 Gangs of Wasseypur: Movie Review
Cast: Manoj Bajpayee, Tigmanshu Dhulia, Pankaj Tripathi, Nawazuddin Siddiqui
Director: Anurag Kashyup
The much anticipated and hyped movie of the year has hit the cinema hall across the country today to entertain the viewers. Anurag Kashyap's Gangs of Wasseypur has again made him prove that he one of the industry best in creating a bloody magic on the screen. And the best thing is the movie lovers like to watch this brutality again and again. So, if you are ready to watch some great temperament, electrifying dialogues, vengeance, revenge, gangster's rivalry and some really nice acting, here is the movie for you "Gangs of Wasseypur".
Gangs of Wasseypur is basically a revenge drama or gang war between two gangs of a small town Wasseypur located at coal district Dhanbad in Jharkhand. Sardar Khan (played by Manoj Bajpayee) is the center role of the movie whose only aim left in his life is revenge of his dead father who was murdered by the capitalist-turned-politician Ramadheer Singh (Tigmanshu Dhulia). The movie revolves around the revenge sequences with Qureshi (Pankaj Tripathi) followed by two marriages of Sardar khan with Rajini (Richa Chhada) and Durga (Reema Sen) and introduction of Sardar's oldest son Danish Khan (Nawazuddin Siddiqui) in the war.
The actors have justified their parts extremely well by portraying themselves to the real characters. After watching the magnificent acting of Manoj Bajpayee in movies like 'Satya', 'Zubeidaa','Shool' 'Aks', 'Pinjar', 'Swami', 'Raajneeti' and 'Lanka' you will see him one more step ahead in his acting in Gangs of Wasseypur. He is just 'fantastic' with his character. He doesn't shiver while murdering and looks fearsome, silly, womanizer, merciless, debauched, lecherous, clever and cunning at times.
Pankaj Tripathi is excellent in his imminent presence as the negative lead. Piyush Mishra as Sardar's mentor and Jameel Khan as his partner-in-crime are watchable in their roles. Jaideep Ahlawat, as Sardar's father, though has small presence in the movie but marks a good impact in this role. Nawazuddin Siddiqui, though has a late entry in the movie has put life into his character with his fearsome and original expressions in the role of a protagonist.
Richa Chadda as Sardar's wife is flamboyant with no hesitation and shyness using cuss words for cheating her. Reemma Sen in the role of Durga, initially coy, shows her true colours when Sardar needs to see them. Both of them have justified their characters well.
The script of the movie is so good that it will never feel you loose interest in the entire duration of movie with lots of interesting sequences and incidents coming after one another.
Though, Gangs of Wasseypur is a intense drama, but you will definitely enjoy some good piece of comedy in some instances especially with interesting characters like Definite, Perpendicular and Tangent. The hirarious conversation between the characters will definitely make you laugh. Even Manoj Bajpayee has done some good comedy in the movie.
Music Director Sneha Khanwalkar has done a good job with the music of the movie keeping in mind the script and audiences in mind. Songs like 'Hunter' 'O Womaniya' and 'Jiya Ho Bihar Ke Lala' are already a hit.
Over all Anurag Kashyap has succeeded once again to make an entertaining movie with intense sensitivity too. Though, the movie has been scheduled to be released in two parts, the later to be released in few months but the first half of the movie is worth to watch and after watching the first part you are definitely going to wait for the next part eagerly. So, just watch out Gangs of Wasseypur for some good piece of script, direction, acting and lots of entertainment.
LATEST IMAGES

MORE...
Social bookmark this page
Post comments: