Paes to partner Vishnu while Bhupati will play with Bopanna in Olympics: AITA
New Delhi, Thu, 21 Jun 2012
NI Wire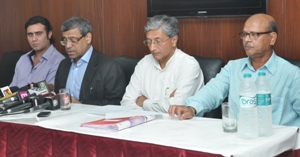 The much awaited suspense for the names of the tennis teams to be sent for the London Olympics 2012 for Men?s double finally ended today when All India Tennis Association (AITA) president Anil Khanna disclosed the names of the teams today in a press conference held in Delhi.
AITA has decided that Vishnu Vardhan will partner Leander Paes while Mahesh Bhupathi will play with Rohan Bopanna in the Olympics.
AITA has admitted that the decision is unfair for Leander Paes but has appealed Paes to reconsider the decision of AITA for the interest of the Nation.
Khanna also announced thath Leander Paes and Sania Mirza is the only direct entry to Mixed double considering their combined ranking of 19.
However, for playing in Women's singles or Women's double Sania was expecting to receive a wild card but it will now depend upon her performance in Mixed Doubles whether she gets a wild card by ITF or not.
AITA was in favour of sending Paes-Bhupathi as a team for the London Olympics but Bhupati refused to partner the Paes. Later, Rohan Bopanna too declined to play with Paes as both Bopanna and Bhupathi thinks that two teams should go the Olympics.
AITA has now appealed to except the decision graciously that has been taken after due consideration and consultation in favour of the players and the nation and to kindly remain silent.
AITA admitted in the press conference that, the decision may not be fair but is the best, suited to the current circumstances and AITA?s understandings.
LATEST IMAGES

MORE...
Social bookmark this page
Post comments: