Movie Review: Madagascar 3 (Europe Most Wanted) a fun filled ride
New Delhi, Tue, 19 Jun 2012
NI Wire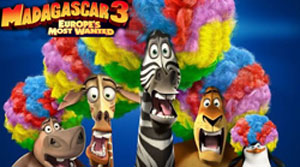 Director: Eric Darnell, Tom Mc Grath, Conrad Vernon
Writer: Eric Darnell, Noah Baumbach
Produced by: DreamWorks Animation
Distributed by: Paramount Pictures
Central characters of Magagascar 3: Alex (VO: Ben Siller), Marty (VO: Chris Rock), Gloria (VO: Jada Pinket Smith) and Melman (VO: David Schwimmer)
"If you have loved the first two series Madagascar 1 and Madagascar 2, Madagarcar 3 will drive you crazy, but if you haven't you are still going to fall in love with this film".
Madagascar 3: Europe Most Wanted is continuation of story of misadventures of escaped zoo animals from second film searching their way back to New York Zoo.
Penguins and Monkeys are a real treat to watch just like the previous two series. Their way of executing task assigned to them, their mode of communication, and their ability to be funnily positive at the time of adversity make them adorable.
New addition to the film are: Vitaly (Russian Tiger), Mia (Female Jaguar), Captian Chantel Du Bois', the Animal Control Officer of Monaco
Captain Chantel Du Bois is the perfect villain. She wants to capture the gang in any way possible and can go to any extent to do so. Her attempts create several funny instances in the movie that will make you roll on floor laughing out hard.
Penguins are still gadget freaks and Monkeys still funny.
From car race to circus, everything is hilarious. Vitaly and Mia too have their part in the film and they will leave you grinning.
Monaco and it streets are depicted inch perfect.
King Julien (King of Lemurs) again makes his presence felt in the movie. This time he falls in love with a fat cycle riding bear of the circus. And their chemistry will make your stomach ache from laughing.
Madagascar 3 is on the top spot on US and Canadian box office for second straight weekend and has crossed $35.5 million mark.
Madagascar 3 is released in 3D as well.
If you love animation and are looking for a real fun ride then you won't want to miss out on Madagascar 3.
LATEST IMAGES

MORE...
Social bookmark this page
Post comments: