G20 Summit: India announces US$10-billion to IMF for Euro zone crisis
LOS CABOS, MEXICO, Tue, 19 Jun 2012
NI Wire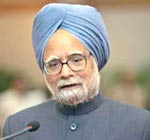 In a bid to support Euro zone from emergency economic crisis, the International Monetary Fund, which was seeking help from G20 nations to get contribution in enhancing its corpus, has reached above to its target level of US$430 billion.
After announcement of G20 (A group of 20 major economic countries) nations including BRICS (Brazil, Russia, India, China and South Africa) nations to contribute in IMF, the corpus of IMF would gain an emergency fund of US$456 billion.
India too has announced to contribute US$10 billion. Prime Minister Manmohan Singh who is at present in LOS CABOS, MEXICO to attend G20 summit has made this announcement.
"The International Monetary Fund has a critical, supportive role to play in stabilizing the Eurozone. All members must help the fund to play this role," said PM Singh in G20 summit.
"I am happy to announce India has decided to contribute $10 billion to IMF's additional firewall of $430 billion," he said, also appealing to countries with surpluses such as China to make similar contributions.
China in BRICS and Japan in G20 have contributed most with US$43 billion and US$60 billion respectively.
The prime minister began by congratulating the new government in Greece that is about to take office, as it has given hope that the debt-laden country will stay in the Eurozone and take up critical reforms.
"We wish them well and are encouraged by the early statements of intent."
He, nevertheless, said the crisis in Eurozone remained worrying, as it was pulling down even emerging economies such as India and China, which were earlier on a high growth path.
"This calls for policy action on several fronts. Of greatest concern at present is the uncertainty affecting the Eurozone. The sovereign debt crisis and the banking crisis now on the horizon have grave implications for the health of the entire global economy."
The prime minister again laid emphasis on infrastructure investment as he had in earlier G20 Summits, saying less developed and emerging economies were also facing serious problems because of the global crisis.
"Infrastructure investment in developing countries assumes special importance in this context. It lays the foundation for rapid growth in the longer term, while providing an immediate stimulus for their economies and also for the global economy, by providing a robust source of demand."
But more infrastructure investment in developing world is only possible if they get access to long-term capital, he said, adding, "Multilateral development banks can play a major role in this context."
Efforts were underway in India to spruce up infrastructure with massive investment and ambitious targets, he said.
The prime minister said while the performance of the Indian economy, now growing at 6.9 percent as against 8.4 percent in 2010-11, may look good to the world outside, it was not enough and that citizens expected more.
"Yet the fundamentals of the Indian economy remain strong and we are confident of bringing back the rhythm of high growth of 8-9 percent per annum."
--With IANS Inputs--
LATEST IMAGES

MORE...
Social bookmark this page
Post comments: