PM hopes G20 can help end global economic crisis
New Delhi, Mon, 18 Jun 2012
NI Wire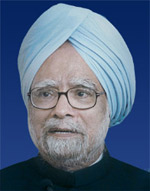 Prime Minister Manmohan Singh on Sunday arrived to attend the G20 Summit to be held at Mexico this year. The two-day summit is likely to find some effective measures to overcome the ongoing economic turmoil and restore growth.
"The world is in deep trouble," the prime minister told journalists, soon after landing at the San Jose del Cabo International Airport via Frankfurt. "Hope the G20 fill come up with constructive proposals to get the world out of the crisis," he added.
The prime minister is scheduled to meet the BRICS leaders: Brazilian President Dilma Rousseff, Russian President Vladimir Putin, Chinese Premier Wen Jiabao and South African President Jacob Zuma on Monday.
In addition to the summit has is also planned to meet other leaders on Monday including Mexican President Felipe Calderon and German Chancellor Angela Merkel.
The president is likely to have a discussion with US president Barack Obama too as per the officials. Bilateral talks will also continue on Wednesday.
There may be some positive signals for Indian side ahead of the G20 Summit with the results of parliamentary elections in Greece indicating that the debt-laden country could remain in the Eurozone.
The president also expressed his concerns over the situation before leaving for Mexico.
"This situation in Europe is of particular concern, as Europe accounts for a significant share of the global economy and is also India's major trade and investment partner," the prime minister said.
"Continuing problems there will further dampen global markets and adversely impact our own economic growth. It is our hope that European leaders will take resolute action to resolve the financial problems facing them."
The prime minister, on an eight-day overseas visit since Saturday and will also attend the Rio+20 Summit on environment at Rio de Janerio for which he will leave on Tuesday night and will reach next morning.
-With inputs from IANS.
LATEST IMAGES

MORE...
Social bookmark this page
Post comments: