RBI keeps policy rate intact; Industries disappointed
Mumbai, Mon, 18 Jun 2012
NI Wire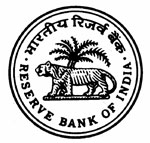 Viewing the latest release of Wholesale Price Index (WPI) for the May month, which displayed the highest rate of Inflation after January 2012, the Reserve Bank of India Monday keep key policy intact despite deteriorating situation of Industrial growth.
In its mid-quarter review, the Central Bank has given preference to curb inflation rather than boosting growth. However, industries were expecting from the apex bank to cut in Cash Reserve Ratio (CRR) - a slice of cash banks have to park in the Central Bank - by 25 to 50 basis points (bps), which cut increases the liquidity in the system that provides extra money to the banks to lend.
But, no cut in CRR may tighten the situation which is at present at 4.75%.
RBI has also kept the repo rate - the rate at which banks borrow from the central bank - at 8%, reverse repo rate - the rate at which banks lend to Central Bank - at 7% and the marginal standing facility (MSF) rate and the Bank Rate at 9.0 per cent.
However, for the beleaguered industries, Chairman of the Prime Minister?s Economic Advisory Council C Rangarajan believes the Reserve Bank of India?s decision to not move on interest rates is a cautious stand and he believes that in July RBI may policy rate again and won't wait till next quarter.
The latest index of Industrial productivity has shown that Industry grew at mere 0.01% in April, which is not a good indication for Indian economy.
LATEST IMAGES

MORE...
Social bookmark this page
Post comments: