Bollywood report card: Small films rock box office
New Delhi, Mon, 18 Jun 2012
NI Wire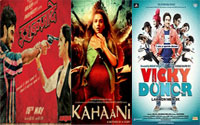 This is June and the trendy bollowood has come with a new trend with small budget and non-commercial movies rocking the box-office. The first five months bollywood report card has been quite unpredictable with non-commercial and small movies with no big names being the top grosser.
Movies like "Kahaani", "Vicky Donor" and "Ishaqzaade" became proved to be huge success though were made with small budget. Except 'Ishaqzaade' that was made with a budget of Rs. 25 crores, "Kahaani", "Vicky Donor" and "Paan Singh Tomar" had a budget of only Rs.8 crore, Rs.5 crore, and Rs.4.5 crore respectively.
The overall collection of 'Ishaqzaade' was around Rs.40 crore, 'Kahaani' Rs.75 crore, 'Vicky Donor' Rs.45 crore and 'Paan Singh Tomar' Rs.20 crore." As told to IANS by Rajesh Thadani of Multimedia Combines.
Biggies like "Agneepath", "Housefull 2" and "Rowdy Rathore" also proved their successes at the ticket window.
Thadani added that the "satellite rights of these small-budget films have also been sold on high rate. The films have garnered profit from the satellite rights as well".
Pramod Arora, CEO of PVR Cinemas, explained the phenomenon and said "This is the process of evolution. A lot of non-mainstream cinema happened to be mainstream, including 'Vicky Donor', 'Kahaani', 'Paan Singh...' among others. Had 'Vicky Donor' released two years back, it may not have worked. Two years ago 'Vicky Donor' would have been taken as a taboo."
Sanjay Ghai of Mukta Arts said, "as far as small-budget films are concerned, films like 'Kahaani', 'Vicky Donor', 'Paan Singh Tomar' and 'Isahqzaade' have not just recovered the money but have also earned decent profits at various circuits."
The year 2011 helped Hindi cinema to regain the pace of hits with several films crossing the Rs.100 crore mark, after 2009 and 2010 being no so good for the industry.
This year has shown a god sign for bollywood with a total of about 45 films release so far, of which some big-budget films among them crossed the net Rs.100 crore mark.
"Three big films including 'Agneepath', 'Housefull 2' and 'Rowdy Rathore' have crossed the net Rs.100 crore mark," said Sanjay Ghai.
Talking about the statistics of box office figures, Thadani said: "These big-budget films have marked a record this year. 'Agneepath' has collected around Rs.120 crore, 'Rowdy Rathore' Rs.105 crore so far, and 'Housefull 2' Rs.110 crore."
In spite of country?s fever of IPL, producers released their movies and experienced good business.
"Films have done very well at the box office; in fact it has been better than last year. This year's collection was superior to last year's. There was not a single fall during the IPL. The fear factor of releasing your film during IPL was not there," Arora said.
Trade Analyst Amod Mehra summed it up, saying: "This year, some films have done exceptionally well and some have not, but so far the collections at the box office have been satisfactory."
With half of the year already passed, bollywood biggies like Salman Khan or a Shah Rukh Khan or an Aamir Khan has not come up with any movies but all set to bang with some much awaited movies like Salman's "Ek Tha Tiger", Shah Rukh's film with Yash Chopra and Aamir's "Talaash".
But according to trade analyst Vinod Mirani feels filmmakers should focus on content and not on the Khans.
"We don't need Khans to run a film...we didn't have any Khan in 'Kahaani' and 'Vicky Donor'; still they did well. It all depends on the content. You might get initial opening, but the script should be strong enough to survive," he said.
-With inputs from IANS
LATEST IMAGES

MORE...
Social bookmark this page
Post comments: