Taj Corridor to become Agra's green lung from wasteland
New Delhi, Mon, 18 Jun 2012
NI Wire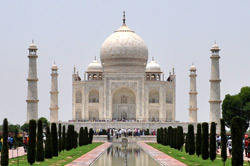 The long running controversies on Taj Heritage Corridor, a wasteland between the Taj Mahal and Agra Fort has winded up with a decision to transform the space from a wasteland into the city's green lung.
U.P. Govt. has instructed the Uttar Pradesh Forest Department to draw up plans for the 80-acre wasteland and graveyard situated along the bank of river Yamuna to make it greener.
Earlier, the former chief minister of U.P., Mayawati had a plan to develop commercial hub and amusement parks on that place but the Archaeological Survey of India did not clear the project; the Supreme Court ordered its suspension in 2003.
"Yes, the chief minister (Akhilesh Yadav) called me and told me to speed up efforts to green the neglected corridor. Funds will soon be available and work will begin," District Forest Officer N.K. Janoo told IANS. Yadav has a background in environmental engineering.
"But we have to follow all the directions of the Supreme Court, high court and the Archaeological Survey of India," Janoo said.
Once the project gets completed, it will add to a new place to attract the tourists.
Presently, the land is being used only to garbage as well as to bury bodies of children and aborted foetuses. The widespread 80-acre land, recovered through dredging of the river bed and refilling of the open space, was left unfinished after corruption charges were found against Mayawati which finally brought down her government.
The case against her has been on for long, but the Taj Corridor continues to remain an eyesore. Scores of foreign tourists daily visit the site and take pictures that are not too flattering.
Reports of the site being used as a burial ground has led to a major concern with dozens of graves present at the place with the huge stones and boulders used for identification.
"While the Taj Corridor lies buried in the debris of politics, the platform is being used to bury dead children," say office-bearers of the 125-year-old Kshetra Bajaja Committee that manages the Taj Ganj crematorium called Mokshdham.
Environmentalists have already raised their concerns on the increasing rate of pollution in Yamuna that is getting even severe after hundreds of trucks of waste was littered around with carcasses of animals and bodies of children.
With regulatory agencies showing their interest on this issue the local people are using the corridor for their own advantage.
"While children play cricket and guides draw in tourists with all kinds of yarns, devotees come to pay obeisance to the river," said Pandit Gopi Ballabh Shashtri, a Yamuna devotee.
-With inputs from IANS.
LATEST IMAGES

MORE...
Social bookmark this page
Post comments: