Bhupati attacks on AITA, Paes; called Leander 'Backstabber'
Bangalore, Sat, 16 Jun 2012
NI Wire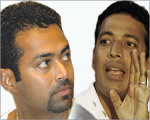 Disappointing over All India Tennis Association's (AITA's) selection, which has announced to send a pair of Leander Paes and Mahesh Bhupathi for London Olympic, the later has criticized the decision of AITA and also attacked on his counterpart citing his 'backstabber'.
AITA on Friday announced to send once India's top tennis players and poster boys of Indian male tennis stars - Mahesh Bhupathi and Leander Paes instead of the pair of Rohan Bopanna and Bhupathi whose pair comes at world's seventh rank.
Criticizing to AITA's decision, Mahesh said in a TV interview, 'The ship that I and Leander boarded has sailed long time ago. We have split four times, gone to the Olympics four times and returned empty-handed. For us going back to the Olympics (together) is worst possible in the interest of country.'
Taking on Paes, Bhupathi said, 'He (Paes) publicly and privately stabbed me in the back in November last year and things can't be turned around. We don't speak and have no camaraderie.'
However, no comments have come from Leander while fathers of both Leander and Mahesh also joined the tug of war.
Reacting to Mahesh's reaction, AITA counter attacked on him by threatening to ban him.
'If Mahesh is not willing to play with Paes, then Bopanna will go to London,' said an official of AITA.
LATEST IMAGES

MORE...
Social bookmark this page
Post comments: