PM leaves for his eight days official visit to Mexico and Brazil
New Delhi, Sat, 16 Jun 2012
NI Wire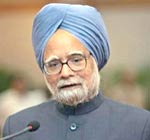 After solving the Prez poll issue, Prime Minister Manmohan Singh today left for an eight-day overseas tour to Mexico and Brazil for attending the G20 Summit and the Rio+20 meeting respectively.
The G20 meet is scheduled to begin from June 18 in the Mexican resort town of Los Cabos.
The crisis in Eurozone and its impact in India and China is likely to be in limelight during the summit. The ongoing European sovereign debt crisis has made it difficult or impossible for some countries like Greece and Spain in the euro area to re-finance their government debt without the assistance of third parties.
On the other hand, in Rio Summit, which is scheduled to begin from June 20, the issue of earth matters including green economy and sustainable development goals are likely to be discussed and debated.
Before leaving for his long overseas trip, Singh today addressed to media and informed about his Maxico and Brazil visit.
"G-20 leaders will meet once again in the shadow of the economic crisis in the eurozone and a faltering global economy. This situation in Europe is of particular concern as Europe accounts for a significant share of the global economy and is also India's major trade and investment partner," the prime minister said in a statement ahead of his departure for Los Cabos.
"Continuing problems there will further dampen global markets and adversely impact our own economic growth. It is our hope that European leaders will take resolute action to resolve the financial problems facing them," he said.
The other issue of immediate concern is the need to revive global growth, Singh said, noting that it was "imperative" that the G-20 countries work in coordination to implement policies that promote sustained growth.
"India has been pursuing this objective in its capacity as the co-chair of the working group on the 'Framework for Strong, Sustainable and Balanced Growth'. I will stress the need to ensure primacy of the development dimension in G-20 deliberations and the need to focus on investment in infrastructure as a means of stimulating global growth," the prime minister said.
During the visit to Los Cabos and Rio de Janeiro, Singh said, he looked forward to separately meeting Mexican President Felipe Calderon, Russian President Vladimir Putin, German Chancellor Angela Merkel, the newly-elected French President Francois Hollande, British Prime Minister David Cameron, Canadian Prime Minister Stephen Harper, Chinese Premier Wen Jiabao, Sri Lankan President Mahinda Rajapaksa, Bhutanese Prime Minister Jigme Y. Thinley, Nepalese Prime Minister Baburam Bhattarai, Benin President Boni Yayi and other leaders.
--With IANS Inputs--
LATEST IMAGES

MORE...
Social bookmark this page
Post comments: