Dry day for tobacco in Delhi today
New Delhi, Thu, 31 May 2012
NI Wire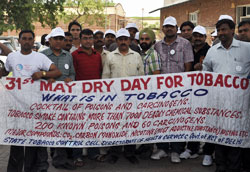 'Dry Day for Tobacco' is being observed in the capital on 31st May on the occasion of World No Tobacco Day 2012 as an initiative of Delhi Government. An appeal has been made to all the tobacco vendors and sellers of the capital to voluntarily close their shops on 31st May 2012. In addition to that, the general public has also been appealed not to consume any tobacco product for this day. The main programme was organised at Dilli Haat, Pitampura today, which was inaugurated by Honourable Health Minister, Delhi Dr. A.K. Walia, accompanied by Dr. N.V. Kamat, Director Health Services, GNCTD, Dr. S.K.Arora, State Tobacco Control Officer and other supporters. The programme was followed by sensitization, cultural programme, street play, magic show etc.
The major participants on this occasion were the tobacco vendors and the common people. The tobacco vendors shown an example by closing their shops for a day that if they can close their business for one day, why can?t the general people can abstain tobacco products for this day.
Tobacco consumption is increasing at an alarming rate in Delhi and as per the Global Adults Tobacco Survey 2010 approx. 41% and 3.7% female use any form of tobacco products in Delhi. However, 30% male and 1.1% female are addicted to smoking everyday and 17% male and 3% female use other forms of tobacco products.
Nearly 8 to 9 lakhs deaths occur in India annually every year including a death of 3000 people everyday, which is a point of major concern. Consumption of tobacco in various forms results in various severe health conditions including lung disorders, heart disease, respiratory problems, premature death of infants, cancer, TB and much more. In addition to that, passive smoking is equally dangerous for health.
Delhi Government has started an anti-tobacco campaign from 25th May 2012, that will end on 5th June as 2012 which includes various street play, community meetings, exhibition of IEC material and many other activities ate different educational institutions, coaching centres, police stations, DTC depot, Factories, health centers and office complexes in order to create awareness about the ill effects of consumption of tobacco products.
World No Tobacco Day (WNTD) that is observed across the world every year on May 31, since 1987 as an initiative of WHO and its state members to combat the increasing consumption of tobacco products worldwide.
LATEST IMAGES

MORE...
Social bookmark this page
Post comments:

Jogendra Sarma
May 31, 2012 at 5:19 PM