Karunanidhi takes U-turn, refuses for threatening UPA government
Chennai, Wed, 30 May 2012
NI Wire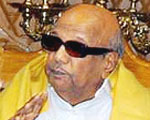 Amidst a surprising move, DMK Chief and former Tamilnadu chief minister threatened UPA government for pulling out his support over the petrol prices hike but in a sudden move he taken a U-turn and blamed media that it has distorted his statement. Certainly his latest version would provide some relaxation to the UPA government, as it is a key component for the UPA governments.
It is noted that reacting over the petrol price hike in last days, Karunanidhi has threatened that he will pull out his support from the UPA government, but shortly after the announcement, he made it clear that he never quoted that he would pull out support.
Kaunanidhi was leading the party's protest against the petrol price hike as well as the rise in milk, power and bus fares in Tamil Nadu.
Speaking at the DMK office, he explained that he never said he would leave the United Progressive Alliance (UPA) government and added that Prime Minister Manmohan Singh was looking into the issue of fuel prices.
"The prime minister has promised action, he added. We will stay with them (UPA) only till it is possible. If it is not possible, we will go our separate way and stress our policies," he said to loud applause from a crowd of DMK activists in the morning.
Karunanidhi said that being part of the coalition has not prevented us from protesting anti-people policies. If our basic principles were threatened, we would persuade the center to correct it.
He said it was not just the opposition parties but also the DMK and other UPA constituents who wanted the petrol prices rolled back.
(With Inputs from IANS)
LATEST IMAGES

MORE...
Social bookmark this page
Post comments: