Geo mobile: A new revolution in world roaming free mobile service
New Delhi, Tue, 29 May 2012
NI Wire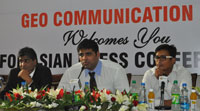 Geo Communication AG, a international telephony service provided company has launched a new GEO mobile which is a newly and innovative international SIM card based on real multi IMSI (International Mobile Subscriber Identity) technology.
Company president Naveen Singh Suhag said in a press conference that company has spent an enormous amount of time and resources for creation of this unique product and service combination. The multi IMSI system provides savings without the hassle of having to switch SIM cards and mobile handsets a current practice of frequent travelers. The new mobile set international SIM card will provide cost effective along with multiple options mobile service all over the world.
Head of company in UK Anand Nair says that GEO mobile provides technology solutions for all institutions where separate voice recording is must for all the voice calls by the employees because security and transparency are the main concern for their such as Banks, other financial and corporate institutions.
According to company sources, the product provides mobile roaming service in nearly 6 continents. Company claims that more than 99 countries local numbers can be merged in a single SIM. It is available in only 220 countries and company is planning to enlarge the facility in rest part of the country.
LATEST IMAGES

MORE...
Social bookmark this page
Post comments: