Can Mumbai Indians uproot Defending Champion Chennai Super Kings?
New Delhi, Wed, 23 May 2012
NI Wire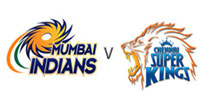 Chennai Super Kings against all odds are onto the Eliminator and are eyeing for the 2nd Qualifier, final and their third IPL title. CSK's IPL journey has been wavering but they somehow still managed to make it to last four, they have seen such situation before and have come out of it as winner. They were the favorite during the start of IPL and now they have a 50-50 chance to make it to 2nd Qualifier.
There is not much difference between CSK and Mumbai Indians. They both have fair chance to win or loose this match. Mumbai too haven't performed to their standards and have lost many crucial games sometimes because of weal bowling and sometime because of batting. They must click as a team today to uproot CSK and they have the potential with the likes of Lasith Malinga, Sachin, Rohit, Pollard, Rayudu, Gibbs and Harbhajan.
But CSK plays the pressure game better then any other team in the IPL. None of their batsmen and bowlers has clicked but they still have managed to earn a spot. Today Raina, Morkel, Bravo, Dhoni, Jadeja, Hilfenhaus and Ashwin must live up to their names so that they have another day to live.
The Eliminator of IPL will be played between Chennai Super Kings and Mumbai Indians at M. Chinnaswamy stadium of Bengaluru and will start from 8 pm.
Chennai Super Kings Team:
MS Dhoni, S Anirudha, R Ashwin, S Badrinath, GJ Bailey, DE Bollinger, DJ Bravo, F du Plessis, BW Hilfenhaus, MEK Hussey, RA Jadeja, SB Jakati, Joginder Sharma, S Randiv, KMDN Kulasekara, VY Mahesh, JA Morkel, A Mukund, SK Raina, WP Saha, SB Styris, S Tyagi, K Vasudevadas, G Vignesh, M Vijay
Mumbai Indians Team:
Harbhajan Singh, AN Ahmed, Amitoze Singh, AC Blizzard, YS Chahal, JEC Franklin, HH Gibbs, DJ Jacobs, KD Karthik, Kuldeep Yadav, DS Kulkarni, RE Levi, CJ McKay, SL Malinga, SH Marathe, SS Nayak, PP Ojha, MM Patel, NLTC Perera, RJ Peterson, KA Pollard, AT Rayudu, JN Shah, RG Sharma, R Shukla, RP Singh, DR Smith, TL Suman, P Suyal, AP Tare, SR Tendulkar, AV Wankhade, SA Yadav
LATEST IMAGES

MORE...
Social bookmark this page
Post comments: