DD vs KKR: Virender Sehwag and Gautam Gambhir are the trump card
New Delhi, Tue, 22 May 2012
NI Wire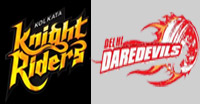 Two times both the teams have clashed in the league, one was won by Delhi Daredevils and the other by Kolkata Knight Riders. This sums up today's match prediction, both Delhi and Kolkata are equal in strength.
Delhi had the last spot in 2011 but this time Sehwag, Kevin, Jayawardene and Morkel turned the table upside down. They have never been to the final and if they mange to defeat Kolkata today they would be the favorite to win this year's IPL. Kevin is gone but Warner has adjusted well in the void and Taylor last performance will double the spirit.
Kolkata too have never seen the final match but today they will try their best to reach there. They were least impressive in previous seasons of IPL but this tear they performed extremely well and rightfully earned the 2nd spot in the points table. Gambhir, McCullum, Kallis, Shakib, Yusuf and the mystery man Sunil Narine will hold they key for their team to win.
Subrata stadium has been one of the toughest grounds to play and it will be interesting to see Sehwag and Narine clash. KKR have a good spin option and they might try the same team as in the previous match while Delhi would have to look whom they want to play, Russell, Taylor or Van der Merwe.
Delhi Daredevils and Kolkata Night Riders will clash for the spot in final at Subrata Roy Sahara Stadium of Pune from 8 pm.
Delhi Daredevils Team:
V Sehwag, MC Juneja, VR Aaron, AB Agarkar, P Bisht, R Bist, GH Bodi, DAJ Bracewell, U Chand, AJ Finch, DPMD Jayawardene, GJ Maxwell, M Morkel, S Nadeem, Y Nagar, PT Naik, P Negi, NV Ojha, IK Pathan, KP Pietersen, KC Raval, AD Russell, AM Salvi, LRPL Taylor, RE van der Merwe, Y Venugopal Rao, Vikas Mishra, DA Warner, TP Yadav, UT Yadav, Zafir Patel
Kolkata Knight Riders Team:
G Gambhir, S Ladda, L Balaji, R Bhatia, MS Bisla, DB Das, M de Lange, BJ Haddin, Iqbal Abdulla, CS Jani, JH Kallis, B Lee, BB McCullum, EJG Morgan, SP Narine, YK Pathan, JL Pattinson, SV Samson, PJ Sangwan, I Saxena, Shami Ahmed, Shakib Al Hasan, LR Shukla, RN ten Doeschate, MK Tiwary, JD Unadkat
LATEST IMAGES

MORE...
Social bookmark this page
Post comments:

nagendra yadav
May 22, 2012 at 5:25 PM

K.K.A
May 22, 2012 at 3:24 PM