Parliament houses adjourned till afternoon due to uproar over coal scam
New Delhi, Tue, 22 May 2012
NI Wire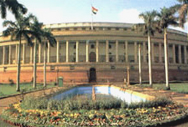 Both houses of Parliament were adjourned till afternoon on Tuesday over continuous uproar in both houses over the report of Comptroller and Auditor General (CAG) that had reported a loss of Rs.1,80,000-crore to the government's exchequer in improperly allotting the coalmine blocks to public and private sector companies.
While the Rajya Sabha was adjourned twice, first for 15 minutes and then till noon, the Lok Sabha was straightaway adjourned till noon.
Soon after the Lok Sabha met on the last day of the budget session, members from the opposition benches raised the reported loss to exchequer in allotment of coal mines. Some members also raised the issue of a train accident in Andhra Pradesh.
Opposition members, particularly from the left parties, raised slogans and waved a newspaper copy carrying the CAG report on the allocation of coal blocks held between 2004 and 2009 without going through auction process, which the auditor said resulted in undue benefits of Rs.1,80,000 crore to private parties.
Some other opposition members pointed to the train accident of Hampi Express with a stationary goods train in Anantapur district in the early hours of Tuesday in which 15 people were killed.
The agitated opposition members trooped towards Speaker Meira Kumar's chair and continued with their slogan shouting.
As her plea to let the question hour continue went unheeded, Meira Kumar adjourned the house till noon.
In the upper house, as soon as it met for the day, BJP member Rajiv Pratap Rudy urged Chairman Hamid Ansari to suspend the question hour to discuss the CAG report. Ansari, however, ruled this out, saying: "You cannot raise questions that are not listed."
Rudy was joined by other BJP members, including Prakash Javadekar, who flashed, what he claimed, a letter from the Central Vigilance Commissioner recommending a Central Bureau of Investigation probe in the coal block allocation.
As the din continued, the chair ruled "nothing will go on record".
Defending the government, Minister of State for Parliamentary Affairs Rajiv Shukla said the CAG report has not yet been tabled. "Where is the report? Report has not been tabled," he said.
As the opposition members continued with their protests, the upper house was first adjourned for 15 minutes and then till 12 noon.
Both houses resumed their functioning at 12 noon.
--With IANS Inputs--
LATEST IMAGES

MORE...
Social bookmark this page
Post comments: