Netizens shock over Torrent block
New Delhi, Fri, 18 May 2012
NI Wire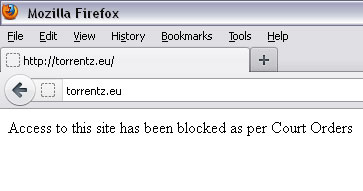 The Thursday morning came as a shocking day for netizens who spend most of their time on downloading, uploading and viewing video films and songs online as internet service providers like Airtel, BSNL and Reliance have blocked some popular online video sharing sites such as Torrentz.eu, Vimeo, Dailymotion.com, Isohunt.com, thepiratebay.org, kat.ph and mnova.eu etc. following the Madras High Court order.
According to media reports, these popular websites have reportedly been blocked for violating the 'copyright act' norms that is hurting the entertainment industry in billions of rupees.
BSNL and Reliance had already blocked almost 26 such sites while Airtel jointed them on Thursday.
The ISPs followed the Madras Court order to block online video sharing websites to protect the copyright violation of Tamil film '3', which 'Kolavari D' song became popular in an overnight due to millions of downloading using those blocked websites.
But, this time, a film industry outfit in Chennai moved to Madras HC seeking to protect the copyright of multi version film '3'.
On March 29, the Madras High Court, in response to an petition filled by R K Productions directed to various ISPs and telecom firms to ensure the ban of any part of its film '3' without an authorized licence. The court issued an interim injunction ordering ISPs to prevent such free downloads.
The ban will continue till court's final verdict, sources added.
However, netizens are annoyed over this 'block' and hackers have targeted to Supreme Court and All India Congress Committee websites. On Thursday afternoon, the websites of the Supreme Court (supremecourtofindia.nic.in) and the All India Congress Committee (aicc.org.in) were attacked and taken down. The Supreme Court's portal was back after a few hours, but AICC remained down the whole day.
An online hacker group Anonymous who claimed to hack both websites have tweeted, "Namaste #India, your time has come to trash the current government and install a new one. Good luck."
--With Agencies Inputs--
LATEST IMAGES

MORE...
Social bookmark this page
Post comments: