Justin Bieber says, he is a regular teenager
New Delhi, Thu, 17 May 2012
NI Wire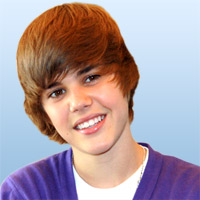 Justin Bieber has said that he is a regular teenager, who loves driving and gets embarrassed at the mention of girls.
The singer has also confessed that he has consumed alcohol underage.
"For me, it's just like, I like to be in control of myself. I mean, I've had a beer, like, before.... But I never get out of control," he says. "I mean, I keep my guard up a lot, because you know, you can't trust anyone in this business," the Mirror quoted him as saying to US edition of GQ magazine.
"That's what's sad. You can't trust anybody. I learned the hard way," he added.
During his interview Bieber shouts: "I'm 18 years old and I'm a swaggy adult! Come on, swaggy bros!" and jumps in his million dollar car.
"I've never made a bad song," he says proudly.
The 18 year old also confessed that likes to play his music so loud, that people around him have to wear earplugs while they are in the studio.
Bieber's mother seems to have similar "steel eardrums" and police have fined her for playing music too loud in her car. She even blew her speakers twice a week.
The 'One Time' hitmaker although doesn't mention girlfriend Selena Gomez but does defend celebrity BFF Kim Kardashian.
"You guys are so mean, bro.... People say she doesn't do anything; she actually does do stuff.... She works hard," he added.
And he says goodbye to his 'team' of several adults but screaming: "Good night, b***hes!" at them.
--with inputs from ANI