Both Mumbai Indians and Kolkata Knight Riders eyeing for a place in top 4
New Delhi, Wed, 16 May 2012
NI Wire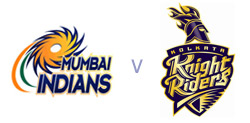 Kolkata Knight Riders will enter this match to take the revenge of their previous loss to Mumbai Indians. In this encounter Rohit Sharma and Gibbs played extraordinarily to help their team win.
Kolkata has lost two of its previous matches while Mumbai has won theirs, but both teams will perform there very best to reach to the top two positions and would like to avoid the eliminator.
KKR has been completely dependent on Gambhir and Kallis this season and they will hope that these two take them to their destination. However, McCullum, Lee, Shakib and Yusuf have the ability to win the matches on their own.
Same is the case of Mumbai, Rohit and Malinga have been the steady performer for them but they will hope that now Sachin, Gibbs, Pollard, Harbhajan and Munaf also contribute to take their team to the playoffs.
65th match of IPL will be played at the home turf of Mumbai Indians at Wankhede Stadium of Mumbai and will start at 8 pm.
Mumbai Indians Team:
Harbhajan Singh, AN Ahmed, Amitoze Singh, AC Blizzard, YS Chahal, JEC Franklin, HH Gibbs, DJ Jacobs, KD Karthik, Kuldeep Yadav, DS Kulkarni, RE Levi, CJ McKay, SL Malinga, SH Marathe, SS Nayak, PP Ojha, MM Patel, NLTC Perera, RJ Peterson, KA Pollard, AT Rayudu, JN Shah, RG Sharma, R Shukla, RP Singh, DR Smith, TL Suman, P Suyal, AP Tare, SR Tendulkar, AV Wankhade, SA Yadav
Kolkata Knight Riders Team:
G Gambhir, S Ladda, L Balaji, R Bhatia, MS Bisla, DB Das, M de Lange, BJ Haddin, Iqbal Abdulla, CS Jani, JH Kallis, B Lee, BB McCullum, EJG Morgan, SP Narine, YK Pathan, JL Pattinson, SV Samson, PJ Sangwan, I Saxena, Shami Ahmed, Shakib Al Hasan, LR Shukla, RN ten Doeschate, MK Tiwary, JD Unadkat
LATEST IMAGES

MORE...
Social bookmark this page
Post comments: