Gillani once again sings old song on Hafiz Saeed
London, Sun, 13 May 2012
NI Wire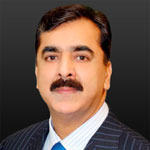 Pakistan Prime Minister Yousuf Raza Gilani Sunday once again sang old song regarding alleged mastermind of Mumbai Serial blast 2008 Hafiz Saeed's detaining. He reiterates that there is not sufficient evidence against him that can prove guilty before Pakistani court.
"If you arrest him, that means he will be released by the courts. For the courts you need more evidence. You know the judiciary is completely independent in Pakistan," a news agency reports.
Gilani, who is in London to review one-year progress on Pak-UK Strategic Dialogue Process, also adamantly denied the presence of Ayman-al-Zawahiri in Pakistan, adding that the U.S. has failed to provide any "actionable information" to suggest otherwise.
He said, "Why should I think he (Zawahiri) is in Pakistan? The CIA and Pakistan's Inter-Services Intelligence (ISI) agency were co-operating closely. They should work together and if there is any credible, actionable information, please share with us so that we should catch hold of him."
"You have claimed that somebody has said that he (Zawahiri) is in Pakistan: if there is any information, please share with us," he added.
--With IANS Inputs--
LATEST IMAGES

MORE...
Social bookmark this page
Post comments: