MPs observed 60th anniversary to 'House of Democracy'
New Delhi, Sun, 13 May 2012
NI Wire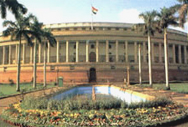 To mark the 60th anniversary, Parliamentarians today convened a special sitting in both houses of Parliament.
Sixty years ago on May 13, 1952, the first session had begun here.
Addressing to the members of Rajya Sabha, the upper house of Parliament Prime Minister Manmohan Singh, who is also a member of this house, said, "One of the reasons for our growing global stature in the world is our unflinching commitment to pursuing the democratic path to achieving social and economic salvation."
"Indians have repeatedly reposed their faith in the democracy. In recent years, they are making their voice heard more forcefully by voting in higher numbers in parliamentary, State Assembly and panchayat elections," he said.
In Lok Sabha, Finance Minister Pranab Mukherjee described 'Parliament' as a "great shock absorber" and said the house had been able to resolve many disputes and tensions.
"It has functioned as a great shock absorber. Many momentous decisions, including redrawing the boundaries of states, were taken in the lower house," said Mukherjee.
Referring to frequent adjournments of the house, he said disturbance in proceedings impinge on the right of the silent majority.
"Let us try to avoid disruptions," Mukherjee said.
President Pratibha Devi Singh Patil will address members of the both Houses at a function to be held in the Parliament Complex.
She will also release coins of Rs. 5 and Rs. 10 denominations besides a special stamp that will freely be available in the market at its face value.
A cultural program is scheduled in the evening and Congress' Rajya Sabha member Rishang Keishing from Manipur, the lone surviving member of the first Lok Sabha, will be felicitated on the occasion.
--With IANS Inputs--
LATEST IMAGES

MORE...
Social bookmark this page
Post comments: