IPL 2012: Pune Warriors look for revenge against Royal Challengers Bangalore
New Delhi, Fri, 11 May 2012
NI Wire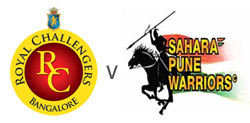 Biggest headache for Sourav and his team will be to keep Gayle, Dilshan and de Villiers in control, which is not at all easy keeping their form in view. It was Gayle who took them one handedly when they met before and he is still uncontrollable.
Not only Pune lacks in bowling they also have been facing a lot of trouble in scoring runs. None of their batsmen have shown consistence and it is not going to be any easy against Murali, Zaheer Khan and Vinay Kumar.
Pune that were once at top of the table have now lost 6 matches in a row. Sourav, Uthappa, Mathews, Clarke and Parnell, none have performed according to their level. With 3 matches to go and a rare chance to book a spot in top four, they will hope to give their best shot in this match and give Pune fans something to cheer.
While RCB who are at 5th position in the points table will not want to loose this match against a team which is at 8th position. They would be aiming a comfortable win that will bring them a step close to securing a place in playoffs.
57th match of IPL will be played in home ground of Pune in Subrata Roy Sahara stadium and it will start at 8 pm.
Pune Warriors Team:
SC Ganguly, ER Dwivedi, MJ Clarke, AB Dinda, CJ Ferguson, RV Gomez, Harpreet Singh, DS Jadhav, Kamran Khan, M Kartik, HH Khadiwale, B Kumar, NL McCullum, AP Majumdar, M Manhas, AD Mathews, MD Mishra, AG Murtaza, A Nehra, MK Pandey, WD Parnell, S Rana, JD Ryder, MN Samuels, R Sharma, GC Smith, SPD Smith, Tamim Iqbal, AC Thomas, K Upadhyay, RV Uthappa, SB Wagh, LJ Wright
Royal Challengers Bangalore Team:
DL Vettori, MA Agarwal, KP Appanna, KB Arun Karthik, RR Bhatkal, AB de Villiers, TM Dilshan, CM Gautam, CH Gayle, M Kaif, AA Kazi, Z Khan, V Kohli, CK Langeveldt, AB McDonald, A Mithun, M Muralitharan, KK Nair, DP Nannes, R Ninan, P Parameswaran, HV Patel, AUK Pathan, LA Pomersbach, CA Pujara, RR Rossouw, J Syed Mohammad, S Thiyagarajan, SS Tiwary, R Vinay Kumar, VH Zol
LATEST IMAGES

MORE...
Social bookmark this page
Post comments: