DD vs RR: Clash of Equals
New Delhi, Tue, 01 May 2012
NI Wire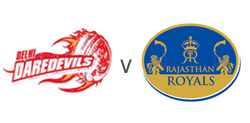 When Rajasthan Royals and Delhi Daredevils met last time on 29th of April, the match went to the nerve breaking last ball and eventually Daredevils won it just by 1 run. This shows how close the match was and how great both the teams are.
They again face each other today in Sawai Mansingh Stadium of Jaipur, home ground of RR and the match will start at 8pm.
Delhi relies on Virender Shewag, Kevin Pietersen, Mahilla Jayawarene and Ross Taylor to give them solid start and Morkel, Agarkar, Irfan Pathan to pluck wickets of their opponent. Rajasthan too has a balanced team with Dravid, Rahane and Owais Shah having the ability to give the right start and Amit Singh, Hogg and Cooper doing a decent job with ball.
This match will also see two of the top run getters getting face to face, Rahane is at top of the table and has Orange cap while Shewag is also cruising in for that cap.
Rajasthan Royals Team:
R Dravid, STR Binny, J Botha, DL Chahar, A Chandila, LD Chandimal, AA Chavan, A Chopra, PD Collingwood, K Cooper, AP Dole, SM Fallah, FY Fazal, SP Goswami, BJ Hodge, GB Hogg, AL Menaria, S Narwal, Pankaj Singh, AG Paunikar, AM Rahane, AS Raut, OA Shah, PR Shah, A Singh, S Sreesanth, SW Tait, SK Trivedi, SR Watson, DH Yagnik
Delhi Daredevils Team:
V Sehwag, MC Juneja, VR Aaron, AB Agarkar, P Bisht, R Bist, GH Bodi, DAJ Bracewell, U Chand, AJ Finch, DPMD Jayawardene, GJ Maxwell, M Morkel, S Nadeem, Y Nagar, PT Naik, P Negi, NV Ojha, IK Pathan, KP Pietersen, KC Raval, AD Russell, AM Salvi, LRPL Taylor, RE van der Merwe, Y Venugopal Rao, Vikas Mishra, DA Warner, TP Yadav, UT Yadav, Zafir Patel
LATEST IMAGES

MORE...
Social bookmark this page
Post comments: