RVM hospital: A platform with humanitarian touch
Bangalore, Mon, 23 Apr 2012
NI Wire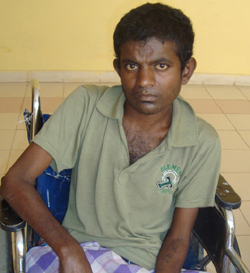 With the credo ? Rejoice, Value Life and make a Difference as its founding tenets, RVM Foundation has once again fulfilled its humanitarian commitment and save the life of a miserable transgender, who was in complete grip of ruin and death. RVM hospital members took him from the streets of Bangalore and right now he is on the way of happy living, leaving his devastated past, as the hospital authority claims.
Arpita Rao, PR manager of RVM hospital said that Priya, a transgender while out was traced out from in Madivala where he has suffered a major accident by two-wheeler. He sustained injury on both the legs. Later he came under the influence of alcohol to reduce his pain, which resulted in creasing the infections caused by the accident. No hospital was ready to admit him because of him being a transgender.
However, Priya's situation took a sudden turn for the better when he was brought to the RVM Foundation Hospital by the service team, which visits hospitals across Bangalore hits the streets to pick up people in need care, she added.
She said that Priya was admitted to the RVM Foundation Hospital in moribund condition, dribbling pus from both infected ulcers of the legs, toxic due to septicemia and fever. He was treated with Antibiotics, dressings and nutritional diet.
According to hospital sources Priya's (Prasanna kumar alias Prashanth) from his childhood he was interested in acting as a female in dramas and stage shows. When he was sixteen he left his village in search of a job about fourteen years back and never returned home after that.
Arpita said that Priya came in contact with group of Eunuchs who influenced him to become transgender so that he can earn more money for his family. He easily accepted and underwent transgender surgery in a private hospital at Kadapa town of Andra Pradesh by paying Rs.10, 000/-.
Now he has come to his paternal land and he is happy with his family members. His family members expressed that they would like to take him back to their village and live happily with reconciled life.
Arpita said that once the wound on the right leg heals, he will be provided with an artificial limb to enable him to walk. The family has counseled to keep the episode concealed and confidential so that other people in the village and neighbors do not tease him. We have advised him to dress like a male in future as he has got all secondary sexual characters.
Now Priya is recovering well after the skin graft surgery expresses his gratitude to RVM Foundation Hospital, Doctors, and Staffs for treating him on humanitarian grounds and giving him a new life.
null
null
LATEST IMAGES
null
null
MORE...
Social bookmark this page
Post comments: