Light drizzle cooled capital, thunderstorm likely
New Delhi, Tue, 10 Apr 2012
NI Wire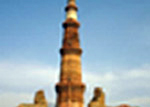 A rapid change in the temperature observed when overcast sky light drizzle the morning in Delhi. It is likely to thunderstorm and dust in some part of the city. Due to change there has been change in temperature witnessed.
According to India Meteorological Department (IMD), 0.4mm of rainfall was observed in some part of the city. IMD has predicted that skies will remain cloudy. Some parts of the city may witness dust storms and thunderstorms later as the day progresses. The maximum temperature is expected to hover around the 39 degrees Celsius mark.
Due to these sudden changes in the climate change in minimum temperature observed which was 22.3 degrees - three notches above average. Humidity was recorded at 53 percent.
(With inputs from IANS)