World Tuberculosis day 2012: How to avoid Tuberculosis
New Delhi, Sat, 24 Mar 2012
NI Wire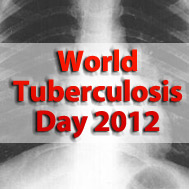 Today is World Tuberculosis day which is observed on 24th March of every year across the world to create awareness about the epidemics of tuberculosis. This day is known to is aimed to create public awareness about the symptoms, diagnosis, prevention and cure of the disease as it results in the death of around 1.7 million people across the world and around 800 people dying every year in India.
Though TB is preventable as well as curable but due to lack of proper awareness among the people the diseases is becoming a serious problem across the world. Here are some facts about TB that can help you to know about the disease more:
Symptoms of TB
Tuberculosis is an air-that can happen to anyone including Infants, old people, and pregnant women, recently delivered women, uncontrolled diabetes patients, cancer patients and HIV positive people. The major symptoms of TB are:
Persistent cough for two weeks or more
Weakness
Fatigue
Nausea
Weight loss
Fever
Night sweats
Lack of appetite
How to Avoid TB
Going to crowded, stuffy and unhygienic places should be avoided.
Food rich in antioxidant properties should be eaten as it improves your immunity.
Eat lots of fresh vegetables and fruits.
Include protein rich food in your daily diet as helps in the formation and repair of cells.
A low carb diet should be avoided. Your diet should contain a balanced amount of carbs, proteins, vitamins and fats as all are necessary for improving the immune system.
A daily exercise is highly recommended as it helps in improving the circulation of blood in the body that improves the immune system.
Yoga and mediation is also very beneficial on regular basis as they makes you stress free and improves the condition of your immune system.
You should maintain a good hygiene around you in order to keep you away from tuberculosis.
So by keeping certain things in mind you can avoid the condition of tuberculosis. So, make a promise to you on the World Tuberculosis Day 2012, to follow the same in order to eliminate the disease from the root.
LATEST IMAGES

MORE...
Social bookmark this page
Post comments: