Lanka's sovereignty important but Tamils dignity too: PM
New Delhi, Fri, 23 Mar 2012
NI Wire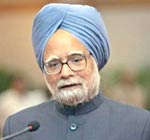 After casting vote against Sri Lanka over the issue of alleged War Crime and human rights violation after post war in which minority Tamils were being victims, government has cleared its stand that India does not want to interfere the sovereignty of Sri Lanka, but its prime focus was to provide justice and dignity to Tamils minorities in Lanka.
India on Thursday supported the UNHRC resolution censuring Sri Lanka for alleged war crimes in peace time after the end of LTTE and human rights violation to its Tamil minority. However, the credit of toning down the resolution of the UNHRC goes to India that worked hard for making it "non- intrusive".
After joining the club of 23 UNHRC members, India is now focusing on its impact over New Delhi- Colombo ties.
To shun the impact of Thursday voting, Prime Minister said, "We have to weigh the pros and cons... What we did is in line with our stand."
"We don't want to infringe upon sovereignty of Sri Lanka but our concerns should be expressed so the Tamil people can get justice and live a life of dignity," Singh added. He was talking to media on the sideline of delivering Padma awards on Thursday.
Earlier, New Delhi released a statement in this regard, clearing India's stand over this issue in which it said, "India believes the primary responsibility for the promotion and protection of human rights lies with the states. Consequently resolutions of this nature should fully respect the sovereign rights of states and contribute to Sri Lanka's own efforts in this regard."
"These are norms which all of us in the Council subscribe to. A democratic country like Sri Lanka has to be provided time and space to achieve the objectives of reconciliation and peace."
New Delhi has also urged Colombo to take forward the measures for accountability and to promote human rights that it has committed to.
However, in India there is a clear differentiation over government's Thursday step as the ally DMK has welcomed the move of the government while Janta Party President has called it a 'monumental blunder'.
LATEST IMAGES

MORE...
Social bookmark this page
Post comments: