Weight gain may be a result of less sleep
Washington, Thu, 15 Mar 2012
NI Wire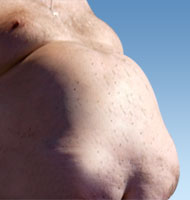 People who don't get enough sleep are likely to suffer from obesity due to increased eating habits. A study says.
The study also revealed that those people getting less sleep are unable to burn the additional calories.
Leptin and ghrelin are mainly associated with appetite. "We tested whether lack of sleep altered the levels of the hormones leptin and ghrelin, increased the amount of food people ate, and affected energy burned through activity," said Dr. Virend Somers, M.D., Ph.D., and the author of thestudy. Dr. Somers is a professor of medicine and cardiovascular disease at the Mayo Clinic, Rochester, Minn.
During the entire study, the researchers studied on 17 normal and healthy young men and women for continuous eight nights of which half of the candidates selected took normal sleep while the remaining half used to sleep only two third of their normal sleep.
Participants were allowed to eat according to their wish during the entire research.
The less sleeping group used to sleep one hour and 20 minutes less than the normal ones each day and it was noticed during the research that the group sleeping less consumed an extra 549-calories than the normally sleeping group.
Though, the amount of calories burned in doing different activities remained same in both the groups. This suggests that the people sleeping less didn?t burn the additional calorie.
Moreover, the lack of sleep was generally associated with increased levels of leptin and decreased level of ghrelin and such a situation leads to an urge of over-eating.
"Sleep deprivation is a growing problem, with 28 percent of adults now reporting that they get six or fewer hours of sleep per night," said Andrew D. Calvin, M.D., M.P.H., co-investigator, cardiology fellow and assistant professor of medicine at the Mayo Clinic.
The study revealed that disturbance in sleep can be a major cause as well as a prevention of weight gain and obesity. The study was carried out in a clinical research unit of an hospital.
"Larger studies of people in their home environments would help confirm our findings," Andrew D. Calvin added.
The researchers at the American Heart Association?s Epidemiology and Prevention/Nutrition, Physical Activity and Metabolism 2012 Scientific Sessions presented the study.
Source: With inputs from ANI.
LATEST IMAGES

MORE...
Social bookmark this page
Post comments: