The Story of Sachin Tendulkar 100th ton
New Delhi, Mon, 12 Mar 2012
NI Wire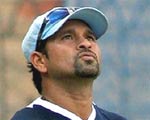 My long journey started on 14 August 1990, when Sachin Ramesh Tendulkar, at the age of 17, struck his first century against England and became the second youngest to do so. From that day I have never looked back and today 23 years later, I am certain that I will soon see the dawn.
I have witnessed many ups and downs, many times I had to wait for long while climbing a step further. But it never occurred to me that I will stop because the man whom people call the God of crocket was beside me and was creating me.
I had to wait for 79 ODIs before getting my name listed in the one day cricket but once done I went on to break all the records and reached to 48 centuries. During this came the landmark for which many tried but couldn't reach, and hence Sachin did. I won't forget the date February 24, 2010; this was the date when first man on planet reached to 200 in ODI at it was no other my companion.
I became part of many matches which were won by me, and due to which he (Sachin) received many accolades from around the world. Four double centuries in test match also form an important part of my journey.
I am feeling a little ashamed and at the same time rage for the critics and other cricket legends that are blaming Sachin that he is playing just for the records. I have never been the reason he plays the cricket; on the contrary I came by while he was shedding sweat for his team, for his country. Instead of respecting his work people are throwing stones at him.
I am confident that I will mark my attendance in his record book soon and hopefully in this Asia cup and it will prove all those wrong who think Sachin has nothing more to give to cricket.
Wait for me, I, 100th ton of Sachin is coming.
LATEST IMAGES

MORE...
Social bookmark this page
Post comments: