Demigod Rajinikanth turns 62
New Delhi, Wed, 12 Dec 2012
NI Wire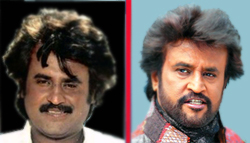 South Indian Superstar Rajinikanth is celebrating his 62nd birthday today. Rajini is truly India's most popular Indian actor. On this auspicious day here is what made Shivaji Rao Gaikwad "Rajinikanth".
Who would have imagined that a bus conductor will earn a status of Demigod in South India but Rajini did that with his gravity-defying stunts and Chuck Norris type style.
It becomes a festival type atmosphere in South India whenever Rajini films releases. He has been loved, praised and prayed.
Rajinikanth has worked in over 150 films in different languages, most of them being superhits and shattering every box-office records.
Rajini made debut in film industry as an actor from Tamil film Apoorva Raagangal. Rajini and S. P. Muthuraman went on to work in 25 films and their pair gave some memorable films.
In 1983, he made his Bollywood debut from Andha Kanoon starring with Amitabh Bachchan and Hema Malini.
Billa, which was the remake of Bollywood film Don on release broke box office records of that time and was a superhit. This film started the comparison between two Indian greats Rajini and Amitabh.
Hum came released in 1991, which was commercially successful film.
Baasha released in 1995 was the film that elevated an actor Rajinikanth to a Demigod Rajini. It shattered every record there were. Critics and fans loved it. Baasha was more then just film and Rajini became more then just actor.
After few low years, Rajini came back with Chandramukhi, which was the longest-running Tamil film, running for 800 days.
Rajini became the second highest paid actor in Asia after Jackie Chan when he got Rs 26 crore for the film Sivaji.
His fans are now eagerly waiting for Kochadaiyaan and Rana, which are expected to release in 2013.
Rajinikanth was born on 12 December 1950 as Shivaji Rao Gaikwad to Jijabai and Ramoji Rao Gaikwad in Bangalore. He has two brothers and a sister.
Rajinikanth is married to Latha Rangachari and has two daughters Aishwarya and Soundarya.
Aishwarya is married to Dhanush and they have two sons Yathra and Linga. Soundarya is married to industrialist Ashwin Ramkumar.
Rajinikanth was awarded Padma Bhushan in 2000.
Few of the films Rajinikanth has worked in are:
Enthiran
Muthu
Moondru Mugam
Nallavanuku Nallavan
Mullum Malarum
Action scene of Rajinikanth:
Cigarette style of Rajinikanth:
Coin style of Rajinikanth: