Mayor Savita Gupta elected member of Board of Asian Mayors' Forum
New Delhi, Tue, 11 Dec 2012
NI Wire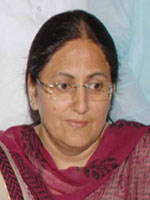 South Delhi Mayor, Ms. Savita Gupta attended the third meeting of the General Assembly of Asian Mayors' Forum (AMF) held in Bangkok, Thailand.
While addressing the General Assembly, Ms. Savita Gupta highlighted the achievements of the South Delhi Corporation particularly the in the field of e-governance, maintenance of greenery in the city, and certain innovative projects like generation of energy from garbage/bio waste.
She emphasized on the association of the citizens/public in Govt. programmes/schemes and use of new technology in solving the most of the civic problems being faced by countries of the Asian Cities. She expressed her willingness to extend the cooperation and share the experiences of SDMC in solving problems of the other member cities.
It is noted that Asian Mayor Forum (AMF) was set up in 2008 with the permanent Secretariat in Tehran/Iran. About 60 cities are members of the Forum from West, South and South East Asia. Mayor, SDMC has been elected as Member of the Executive Board of AMF for two years.