Maruti's workers call for two-day hunger strike over demands of restoring sacked workers
Gurgaon, Wed, 07 Nov 2012
NI Wire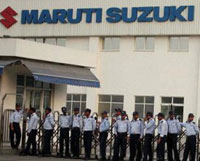 The sacked workers from Maruti's Manesar plant Wednesday sat on two-day hunger strike over demand of their reinstatement in the plant. They are being supported the family members and worker's of Gurgaon's plant, informed a union leader to media.
The authorities had sacked 546 workers after a violence occurred in Manesar plant in July 2012.
The protestors were demanding to cancel the dismissal of all 546 workers and to resume them at their original designations.
The hunger strike began in the morning. Police detained 32 workers and took them to Bhondsi police station. Later, 30 workers were freed.
"Two workers Ram Niwas and Om Prakash, who were picked up by police from the strike venue are missing," a protestor said.
Police removed the tents erected by the protestors near the mini-secretariat. But by noon, the workers were allowed to sit near one of the gates.
Leaders of the workers claimed that 145 workers were arrested in connection with the July 18 violence in Maruti's Manesar plant. These workers were also supporting the strike by refusing meals at Bhondsi jail, the protestors said.
On Wednesday, many workers went without lunch in support of the demand to reinstate those who had earlier lost their jobs.
Maruti Udyog Kamgar Union (MUKU) general secretary Kuldeep Janghu said the union would join the protest rally Thursday, at the end of the two-day hunger strike.
After the July 18 violence at the Manesar plant in which one senior executive was killed, the company had terminated the services of 546 workers.
The police have arrested 145 workers in that connection, including office bearers of the then Maruti Suzuki Workers Union (MSWU), for alleged involvement in the violence.
With their leaders behind bars, the workers have formed a seven-member provisional committee to lead their agitation.
"We want reinstatement of sacked workers and a proper inquiry from a sitting judge of the Punjab and Haryana High Court or CBI into the July 18 incident, apart from the release of all our colleagues who have been arrested," said union leader Anil Kumar.
"On Thursday, we will hold a protest rally in which different workers' unions of the Gurgaon-Manesar-Bawal belt and central trade unions will participate," he said.
A Special Investigation Team (SIT) headed by ACP Ravinder Kumar Tomar had concluded that the violence at the plant was due to internal issues between the management and workers and ruled out external influence, which the company had suspected.
--With IANS Inputs--