Against Congress rally, BJP opposes FDI
New Delhi, Sun, 04 Nov 2012
NI Wire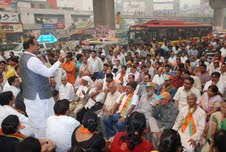 BJP organise big Public Meeting and Demonstrations at 14 prominent places of Delhi to protest against FDI and created awareness against FDI. Many senior leaders participated in the public meeting of Delhi and attend the anti people, anti national and anti trade- farmer policy of the Government.
BJP leaders told that the Congress is guilty conscious. Hence it has organised public meeting in support of FDI and unsuccessfully tried to mislead the people. But the people are conscious and they are not going to be misled by the words of Congress. The people of India will teach such a lesson for allowing FDI that it will be worse defeat than the route in 1977.
Pradesh President Vijender Gupta led the demonstration today. Kalraj Mishra, Mukhtar Abbas Naqvi, Balbir Punj, Bhupender Yadav, Shyam Jaju, Bhagat Singh Khoshiyari, Vijya Kumar Malhotra, Vijay Goel, Aarti Mehra, Vani Tripathi etc. senior leaders addressed the people on this occasion.
In today's Public Meetings and Demonstration large number of local traders, citizens, youth and party workers staged strong demonstration and resolved that they shall not allow FDI in the country.
Pradesh President Vijender Gupta told in a public meeting at Lalgodam Narela that the Congress Government is aware that it is not going to come to power again. Hence it has allowed FDI in the retail trade to ruing retail.
trade in India under foreign pressure. It will have far reaching and adverse constituency.Gupta told that the way in which Congress Government of Delhi has welcomed FDI indicates that Delhi Government has surrendered to the foreign companies have started preparations for opening go-down, ware house, show rooms etc. Here companies like Wallmart, Tesco, Metro, Carfur are being welcomed.