Kerala Tourism campaign to focus on Ayurveda
New Delhi, Fri, 30 Nov 2012
NI Wire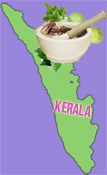 Tourism campaign in Kerala will focus on ayurveda to promote medical tourism and will draw maximum advantage from the mega biodiversity region of Western Ghats, Tourism Minister A.P. Anil Kumar said Thursday.
According to the minister said, the campaign would focus on ayurveda due to the rich medicinal plants' reserve in the Western Ghats, which is among the "hottest biodiversity hotspots in the world".
"Kerala is naturally blessed to be the flagbearer of ayurveda because of the state's rich ecosystem in the Western Ghats," Kumar has been quoted as saying.
The state of Kerala has been thronged by a large number of foreign and domestic tourists who visit Kerala for Ayurvedic Treatment. Kerala is home to as many as 900 species of medicinal herbs are, he said.
Agasthyakoodam peak in the Western Ghats, about 70 km from here, is home to some of the rarest medicinal plants.
Kerala was visited by about 94 lakh domestic visitors last year while about eight lakh foreign tourists visited the state during the same time, says a tourism department official.
A large part of the foreign tourists from Germany, the Middle East and Australia joined the state's ayurveda wellness programmes, said the official.
Kerala Tourism Secretary Suman Billa said Ayurveda Treatment in Kerala was foccussed at providing vigour and health to visitors.
"That is what the tourists are looking for. Lifestyle changes and urban pressures are increasingly affecting the people," he said.
The ayurveda-focussed tourism campaign aims at making long the average stay of foreign tourists to 18 days per person from the present average of 16.2 days.
Kerala is also contemplatingto bring about a convergence of different systems of medicine.
In addition, the tourism department will also add new tourism destinations and diversify its tourism portfolio by including adventure activities like rock climbing and paragliding.
--With inputs from IANS