Delhi Jal Board launches Online Bill Payment, Sheila terms 'major step'
New Delhi, Sat, 24 Nov 2012
NI Wire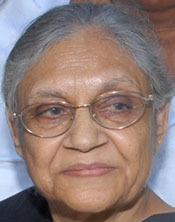 With commissioning of DJB Online Bill Payment facility and e-kiosk facility, DJB has provided around 512 virtual payment counters across Delhi at the doorstep of the consumers. Delhi Chief Minister Sheila Dikshit today stated that Delhi Jal Board has adopted the new technology in respect of payment of bills. This would go a long way in substantially enhancing consumer satisfaction. There would be no mismatch and mistrust in all times to come.
Inaugurating the online payment facility, the Chief Minister stated, "This is a major step taken by DJB to provide better services to the people of Delhi. Plans are underway for providing payment of water bills through mobile phone services".
DJB's Revenue Management System (RMS) would provide effective, efficient and prompt metering, billing and collection services to its around 20 lakh consumers apart from online bill generation and payment of bills from hundreds of Centres.
Its Online Payment facility is available 24x7, which makes possible to deposit payment from any part of the world. The number of footfall in DJB Zonal offices and collection Centres would drastically come down.
Dikshit also stated that the kind of complaints, which are received frequently, would soon vanish. Dikshit while appreciating the efforts of DJB in putting in place such a modern, convenient and scientific system, stated that it reflects DJB's concern for its consumers.
She exhorted Delhiites to understand value of water and avoid waste of water in order to restrict their bills. By doing this, the consumers would get an excellent opportunity to make payment for their actual need and consumption. She expressed confidence that the new system would soon become popular among consumers.