Stampede in Patna: Chhath Puja ends, politics begin
New Delhi, Tue, 20 Nov 2012
NI Wire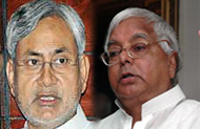 After the ending of the Chhath Puja, now it has been started the petty political game on the incident of stampede in the Ghats of Patna in which more than 20 people lost their lives. RJD chief Lalu Prasad Yadav has lashed out at Nitish Kumar over the stampede and said that the Bihar Chief Minister should take moral responsibility for the untoward incident and step down from his post.
On the other hand, Chief Minister Nitish Kumar has advised the opposition parties to abstain from the politics on the causalities in the incidents.
Meanwhile chief minister has cancelled the tomorrows meal for the Janata Dal(U) M.P. and legislature for the completion of seven year in power.
Commenting on the whole episode in which about 20 people lost their lived during the stampede in Patna, RJD chief Lalu Yadav said that this was mere negligence on part of the Bihar Government for no adequate arrangements were made for the common man during Chhath Puja celebration.
"The Chief Minister, who very often gets angry, was in Pakistan when the preparations were taking place. It was published in the media that the Deputy Chief Minister Sushil Modi has taken the command and is reviewing all arrangements. The preparations were not done properly," said Yadav.
Commenting on the chief ministers version to stop politics on the issue, Lallu said, "He is now asking the parties not to play politics on this. This is not playing politics. If somebody visits the hospital to see the injured, this not politics." he added.
Describing Nitish Kumar to be arrogant in nature, Yadav further said the Chief Minister wants to make Bihar into Singapore and nothing is working out.
Meanwhile Nitish Kumar has said that one thing is clear that this incident did not occur due to collapsing of the make shift bridge but due to stampede the reason of which is yet to be ascertained. The provincial Interior minister has been directed to initiate a probe in the matter. He has already made preliminary inspection of the stampede site and is yet to make a detailed enquiry in order to throw more light on the situation.
It is noted that at least 20 people, including children and women, mostly devotees, were killed and several others were injured in a stampede during Chhat festival celebrations in Patna earlier on Monday evening.
(With inputs from ANI)