Death toll reaches to 105 in the Gaza strip as Israeli attacks continue
Gaza/New Delhi, Tue, 20 Nov 2012
NI Wire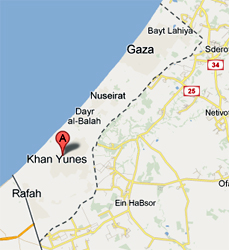 The as Israeli forces continue their bombardment in the sixth consecutive days that resultant in the death of nearly 105 people in the Gaza Strip, the controversial strip between Israel, Egypt and Mediterranean Sea where major population of Palestine refugees live, media reports say.
According to media reports, five more Palestine killed in Gaza strip in fresh Israeli Drone attack in which a commander of the Islamic Jihad militant group and a couple and their two small children were killed.
Over 100 rockets were fired on Israel on Monday, but no casualties were reported.
On Sunday, 11 civilians, including nine members of a family, were killed in the Israeli strikes.
According to the BBC, last week, three Israelis died in one such attack.
Israel launched Operation Pillar of Defence last Wednesday, killing Hamas military chief Ahmed al-Jabari and attacking hundreds of rocket-launching sites, ammunition depots and "terrorist" cells belonging to radical Islamist groups operating in Gaza.
Meanwhile, Egypt has been leading efforts to broker a peace deal, with both senior Israeli and Hamas officials in Cairo for talks.
An Egyptian official said he hoped to be able to make an announcement on Monday or Tuesday.
According to the report, UN Secretary-General Ban Ki-moon has also arrived in Cairo to aid negotiating efforts.
He plans to meet Israeli Prime Minister Benjamin Netanyahu and Palestinian President Mahmoud Abbas in the coming days, the report said.
--With Agencies Inputs--