Chhath strengthen peace and harmony amongst communities: Tokas
New Delhi, Tue, 20 Nov 2012
NI Wire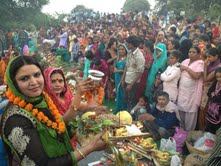 Hundreds of devotees gathered on the various ghats in Munirka Village, RK Puram Sec 2, 3 and 4 to pay their oblations to the Sun God onthe occasion of Chhath. This occasion was celebrated with great enthusiasm, devotees, who began to gather at the ghats since afternoon waded through knee-deep water, took holy dips in the different ghats of Munirka Ward.
Parmila Dheeraj Tokas, Councillor from Munirka ward and Chairperson of "Mahila kalyan and Bal Vikas Committee", SDMC also paid oblations with other local residents and ensured that necessary arrangements were up to the mark in Munirka Village, R.K. Puram Sector 2, 3 and 4 for this occasion.
On this occasion, Ranjeet Singh Pardhan from Munirka Village, Meera Devi, Poonam, Sony, Anuradha, Shambhu Nath, Manoj, Shyam Babu, Pushpa, from R.K. Puram Sec 2 Sumant Manjhi, Dev Kumar Manjhi, Paras Manjhi, Jeetram, Rambabu, Maheto from Sec-3 Manoj Kumar Ramenshwar Yadav, Chandrika Saha, J.K. Tiwari, Gyaneswar pandey, Devendra Kumar, Chandershekhar, from Sec-4 AK Verma, Ram Rattan, SK Mandal, Jawahar Mahto, Mahesh Kumar, Ramasheesh, Prabhakar, Ravi Pradhan (Ambedkar Basti), Rajender Rathore were a host of prominent personalities from the ward who were present.
Parmila Dheeraj Tokas said Chhath Puja is an ancient festival of worship of Surya, the Sun God. On this auspicious occasion, may the Sun God shower blessings upon each person and strengthen peace, brotherhood and harmony amongst different communities of our nation.