Maharastra DGP orders investigation into the arrest of two girl who commented on Mumbai bandh in FB
Mumbai/New Delhi, Tue, 20 Nov 2012
NI Wire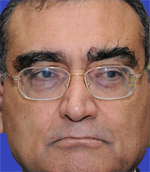 Maharashtra Director General of Police (DGP) Sanjeev Dayal Monday ordered a probe into the arrest of a 21-year-old girl and her friend for posting comments on a social networking website on the shutdown in Mumbai after Shiv Sena chief Bal Thackeray's death.
According to media reports, Dayal said, "An inquiry has been ordered in the case and a report will be submitted by the inspector general of the Konkan range Saturday."
Thane rural police Sunday arrested Shaheen Dadha for questioning the shutdown in the city after Thackeray's death Saturday, and the subsequent shutdown Sunday for his funeral and cremation.
Another girl in Dadha's friends' list, who 'liked' the comment, was also arrested.
However, sources also reported that on the reports came from Palghar police station in Thane rural Shaheen, who had posted the comment on Sunday, has been granted bail on Monday on cash bond of Rs 15,000.
"People like Thackeray are born and die daily and one should not observe a 'bandh' for that," Shaheen had commented on her Facebook account, which was liked by her friend Renu.
Reports here said that both the girls were booked and arrested under Section 295(a) of the Indian Penal Code (for hurting religious sentiments) and Section 64(a) of the Information Technology Act, 2000.
The hospital of Dadha's uncle was also allegedly vandalised by Shiv Sainiks. Katju earlier wrote to the chief minister, "I request you to immediately order the suspension, arrest, chargesheeting and criminal prosecution of the police personnel (however high they may be) who ordered as well as implemented the arrest of that woman."
Criticizing the arrest of both girls, the Chairman of the Press Council of India Markandey Katju Monday asked Maharashtra Chief Minister Prithviraj Chavan to suspend the official who arrested the girls.
"I received an email stating that the woman has been arrested for protesting on Facebook against the shutdown in Mumbai on the occasion of the death of Mr. Bal Thackeray. It is alleged that she has been arrested for allegedly hurting religious sentiments," Katju wrote.
Katju said that it was absurd to say that protesting against a bandh hurt religious sentiments.
Katju said if no action was taken he would "deem it that you as chief minister are unable to run the state in a democratic manner as envisaged by the constitution to which you have taken oath, and then the legal consequences will follow".
He wrote a second email to Chavan later and sought an explanation as to why there was no response to his previous message.
"You have not replied to my email but only forwarded it to someone called Amitabh Rajan, whom I do not know, and who has not had the courtesy to respond to me," Katju wrote.
"Please realise that the matter is much too serious to be taken in this cavalier manner, because the principle of liberty is at stake. The entire nation wants to know what action you have taken. I would therefore request you to immediately let me know what you are doing in this matter," he added.
Katju told Chavan that silence was not an option for him in the matter and that the entire nation was furious at this apparently illegal arrest.
Terming the girls' arrest as "blatant misuse of state machinery", Katju asked what action was taken against the "delinquent policemen".
--With Agencies Inputs--