Necessary arrangement made for Chhath Puja, Tokas inspected Ghats
New Delhi, Sun, 18 Nov 2012
NI Wire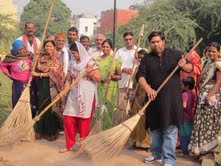 For people of Bihar, Chhath puja (worship of Sun god) is a bigger festival than even Diwali or Durga Puja. No matter where they live, same is the case in Munirka ward in South Delhi. Parmila Dheeraj Tokas, Councillor from Munirka ward and Chairperson of "Mahila kalyan and Bal Vikas Committee", SDMC ensured that necessary arrangements have been made in Munirka Village, R.K. Puram Sector 2, 3 and 4 for this ocassion.
To ensure the proper arrangements and facilities at the ghats, Parmila Dheeraj Tokas inspected all the Chhath-ghats of her ward. Tokas, has asked all the concerned Safai Karamcharies of her ward and the officials of the DJB to work round the clock and ensure there is proper hygiene of all the ghats during the festival.
Moreover, she volunteered by taking a broom to ensure proper cleanliness is maintained in Rock Garden in Munirka Village, where there is the biggest Chhath ghat constructed in RK Puram assembly.
Parmila Dheeraj Tokas said it is a festival of purity and devotion. She extended greetings to the residents of her ward and also called upon the people to maintain brotherhood, peace and harmony during the puja.
On this occasion, from Munirka Village, Meera Devi, Poonam, Sony, Anuradha, Shambhu Nath, Manoj, Shyam Babu, Pushpa, from R.K. Puram Sec 2 Sumant Manjhi, Dev Kumar Manjhi, Paras Manjhi, Jeetram, Rambabu, Maheto from Sec-3 Manoj Kumar Ramenshwar Yadav, Chandrika Saha, J.K. Tiwari, Gyaneswar pandey, Devendra Kumar, Chandershekhar, from Sec-4 AK Verma, Ram Rattan, SK Mandal, Jawahar Mahto, Mahesh Kumar, Ramasheesh, Prabhakar, were a host of prominent personalities from the ward who were present.