BJP misleading people on holiday demand for Chhath Puja: Congress
New Delhi, Sun, 18 Nov 2012
NI Wire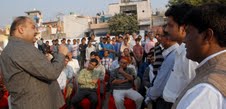 Congress leader Mukesh Sharma has strongly condemned BJP on misleading people over its demand for a gazette holiday on Chhath Pooja. Sharma while addressing a gathering of Poorvanchalis at Mohan Garden expressed surprise that BJP governments in Madhy Pradesh and Chhatisgarh have not declared even a RH on Chhath.
He said that BJP is worried over its present state of affairs; hence, it has ventured to demand Chhath Holiday to make the things better for itself. He stated that the BJP ruled Corporations have been making a strong demand for a gazzeted holiday on Chhath just to befool people as BJP is well aware that there is a prescribed limit of gazetted holidays in a year.
sharma also stated that the City Government led by the Congress Leader, Smt Dikshit announced a RH on Chhath in 2001 in public rally at Dwarka. BJP never though of making a demand during last ten years. The party is raising this demand , keeping in view the ensuing Assembly election.
It would be better if BJP comes out with the list of amenities provided to Poorvanchalis. they are mum over this as they have nothing to say, they have done nothing.
The people are pleased to witness performance of Congress government at Centre and at state level in Delhi. Our governments have been working for the benefit of common man. The regularization of more than 900 colonies by Dikshit has made all poorvanchalis satisfied and confident of a better future.
Sh Sharma stated that after Chhath Pooja , BJP would come with another false propaganda to woo innocent people. The corporations have become white elephants and sleeping governments as nothing moves in the corporations without making 100 visits.